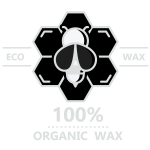 Ecological surf wax that is not only safe for the ocean and the environment, but also non-toxic and safe for surfers.
Enjoy the sea with a clear conscience!
The ecological surf wax Gecko is made with 100% pure beeswax.
100% natural - non toxic. Provides superior grip. Easy application
Handcrafted in Europe, Gecko eco surf wax combines performance, design and innovation, to provide the best in the most extreme conditions.
Our wax is exclusively made from natural and non-toxic ingredients to minimise environmental footprint.
No petrochemical paraffin wax type is used.
It is a surf wax unlike any other on the market.
It's sticky, builds up easily and most importantly keeps you on your board!